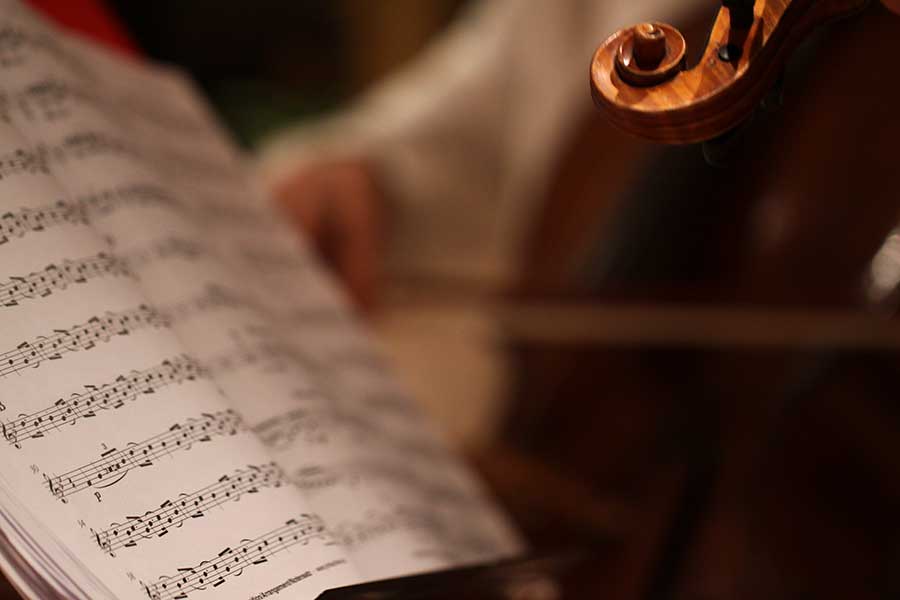 This constellation is characteristic for this epoch and complements themselves to a marvellous and typical sound.Many compositions of the Dresdner composer Johann Gottlieb Naumann (1741 – 1802) are made for the formation of the Allegria ensemble.
Young solo woodwinds and strings of the famous Staatskapelle Dresden were made curious in 1997, with rehearsals to Strauss' opera " Frau ohne Schatten " by the spherical sounds of an instrument up to then never belonged. It concerned the glass glasharmonika, an instrument, which had had its bloom in the time of the classical period and the peiod of "storm and urge", which turned out however thereafter nearly for the complete oblivion. Energized by the enthusiastic introduction lecture of its player Sascha Reckert, the young ensemble stayed together after end of office, in order to make chamber music together with the glass glasharmonika. This was the birth of the Allegria ensemble.
The Allegria ensemble maintains above all old music, which stands in relationship with the Saxonian culture area at for the period of "August dem Starken" ("August the strong"), without locking however thereby for the music of other epochs. As equal kind of interpreting old music authentically the improvising performance of old music on new instruments is considered to the Allegria Ensemble, in the kind and formation as it was usual in the royal chamber music at the Saxonian court. A special attraction of the Allegria concerts lie in the authenticity of the performances. So in the bloom time of the glass glasharmonika (about 1770 – 1820) the famous Virtuose Marianne Kirchgessner (1767 – 1808) played together frequently with flute and, in addition, with voice.
Your request
---
The Allegria Ensemble offers performances and full-length programmes also in smaller formations (e.g. trio) for gala and events of any kind.